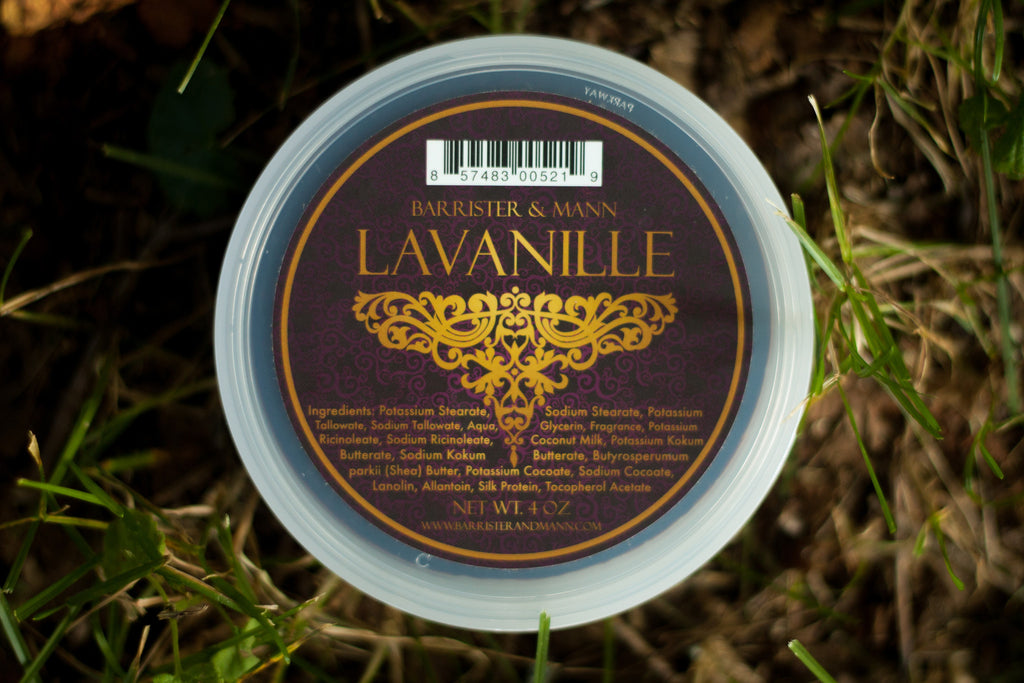 Barrister & Mann Tallow Shaving Soap, Lavanille
$ 24.00
In the early 20th Century, the House of DeLaire created a magnificent perfume base for legendary perfume firm Parfums Caron. A masterpiece in its own right, the base, known as "Mousse de Saxe" (Saxon Moss) made use of a brand new aromatic chemical called isobutyl quinoline, an incredibly bitter, dark, leathery substance of incredible potency and versatility. Marie DeLaire, head of the House, built the base around this strange new substance, weaving anise, iodine, oak moss, and various other compounds into a seamlessly beautiful, velvety tapestry that was to form the basis of many of Caron's greatest masterpieces. DeLaire continued to manufacture its legendary base for Caron until 1969, when the House went bankrupt and the formula was lost. Today, everyone who ever knew the original Mousse de Saxe formula is long dead, the base itself a mere memory.
That's where Barrister & Mann comes in.
Some time ago, Barrister & Mann had the extraordinary fortune to obtain a sample of the original base. Armed with only this small sample and a basic knowledge of what had gone into the original, they set out to recreate the famous base by smell alone. After four months of research, formulation, reformulation, and constant refinement, they successfully rebuilt Mousse de Saxe into its original glory. It seemed only fitting that such an achievement should be used to create a soap inspired by one of Caron's most famous fragrances: Pour un Homme de Caron. They have not copied the original; instead, they have taken the Mousse de Saxe and blended it with lavender, vanilla, cedar wood, and the elegant musk Exaltolide to create a dark, leathery, elegant soap unlike anything seen for nearly a half century. 
Barrister & Mann proudly presents Lavanille.
Please note that Barrister & Mann's formula produces a very thirsty soap. More water than you are otherwise accustomed to may be required to provide sufficient glide and keep the lather from drying out, but trust us: it's worth it. 
Each jar is hot-filled with 4 oz of soap.

Jars are 3.94 inches in diameter

Made in the USA
Ingredients: Potassium Stearate, Sodium Stearate, Potassium Tallowate, Sodium Tallowate, Aqua, Glycerin, Potassium Ricinoleate, Sodium Ricinoleate, Lavandula angustifolia (Lavender) Oil, Fragrance, Juniperus virginiana (Virginia Cedarwood) Oil, Coconut Milk, Potassium Kokum Butterate, Sodium Kokum Butterate, Butyrospermum Parkii (Shea) Butter, Potassium Cocoate, Sodium Cocoate, Lanolin, Allantoin, Silk Protein, Tocopherol Acetate.
PLEASE NOTE: Lavanille soap contains Virginia cedar oil. If you are allergic to cedar or juniper, it is STRONGLY recommended that you refrain from using this product.