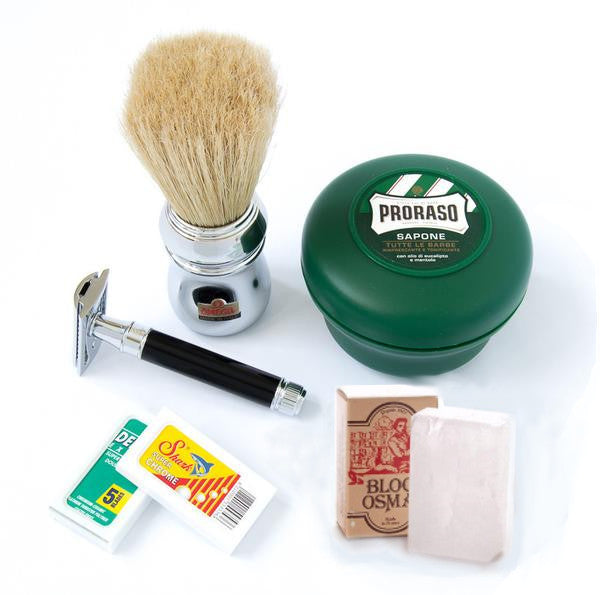 Basic Safety Razor Kit
$ 66.00
With our Basic Safety Razor Kit you'll receive a full set of the shaving gear needed for your first wet shave. These items are constantly recommended by the wet shaving community for beginners, and with good reason. In our Basic Safety Razor Kit we focused on choosing products that are less expensive but provide a great shave and have high manufacturing standards. Below is a list of what you'll get and a description of why we included it in the kit.
Edwin Jagger De86bl Razor
Edwin Jagger has been manufacturing quality safety razors out of the UK for over 25 years and has become a favorite among wet shavers. We've included their DE86BL razor due to the superior, mild shave it provides, which is great for beginner wet shavers. It also looks great with it's black on chrome handle and has an affordable price tag. You'd have a hard time finding a better performing razor for the price.
Omega #10048 Boar Bristle Shaving Brush
The Omega 48 Boar Brush or "Pro 48" is a staple among wet shaving enthusiasts. Its large profile and long bristles allow for easier handling and superior lathering compared to other boar brushes. The low price and high quality of this brush makes it perfect for those just starting out.
Proraso Eucalyptus & Menthol Shaving Soap
Another classic among wet shavers, Italian manufacturer Proraso has been producing quality shaving soaps and creams since 1948. Their shaving soap is softer than most, which allows for easier loading and lathering which is great for those just learning the skills of wet shaving. Their Eucalyptus & Menthol blend provides a slick lather, which will protect your face during shaving, and will provide a soothing, cool sensation when applied due to the added menthol.
Bloc Osma Jon Alum Block
Alum, when applied after your shave, will help to disinfect and heal your skin. We prefer Bloc Osma Alum Block because it's long lasting and soothes and heals nicks and cuts that result from shaving.
10 Razor Blades
You'll need blades with your safety razor and we'll included 10 with each kit to get you started. We typically include 5 Shark Super Chrome and 5 Derby Extra Super Stainless blades to give you a bit of variation, but the blades included with each kits may vary.
You are only moments away from taking the first step toward experience your first smoother, more comfortable wet shave. If you have any questions about this kit or any of our products, please use the contact form here.