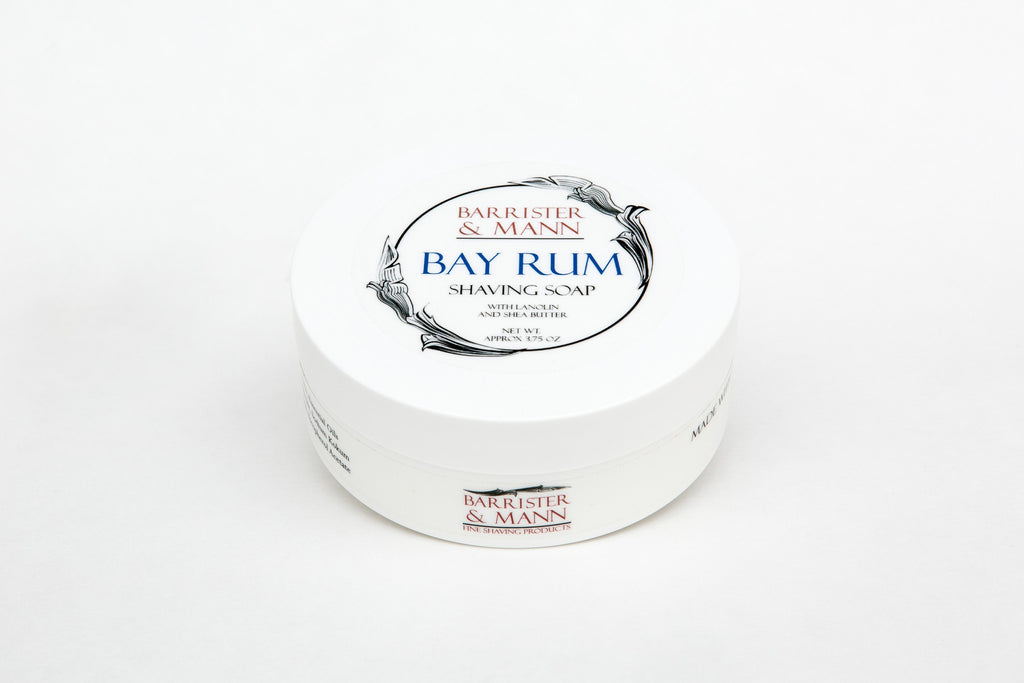 Barrister & Mann Tallow Shaving Soap, Bay Rum
$ 16.00
This is a classic bay rum scent consisting of West Indie Bay (none of that cooking bay stuff), sweet orange, real blackstrap rum, benzoin (a warm, vanilla-like scent), and just a hint of cinnamon, which provides a pleasant warmth. A favorite for winter, but great for any time of year. Please note that our bay rum is entirely clove-free.
Please note that Barrister and Mann's formula produces a very thirsty soap. More water than you are otherwise accustomed to may be required to provide sufficient glide and keep the lather from drying out, but trust us: it's worth it. 
Each jar is hot-filled with 4 oz of soap.

Jars are 3.94 inches in diameter

Made in the USA
Ingredients: Potassium Stearate, Sodium Stearate, Potassium Tallowate, Sodium Tallowate, Aqua, Glycerin, Potassium Ricinoleate, Sodium Ricinoleate, Citrus sinensis (Sweet Orange) Oil, Pimenta racemosa (West Indie Bay) Oil, Rum, Styrax Benzoin Oil, Fragrance, Coconut Milk, Potassium Kokum Butterate, Sodium Kokum Butterate, Butyrospermum Parkii (Shea) Butter, Potassium Cocoate, Sodium Cocoate, Lanolin, Allantoin, Silk Protein, Tocopherol Acetate.