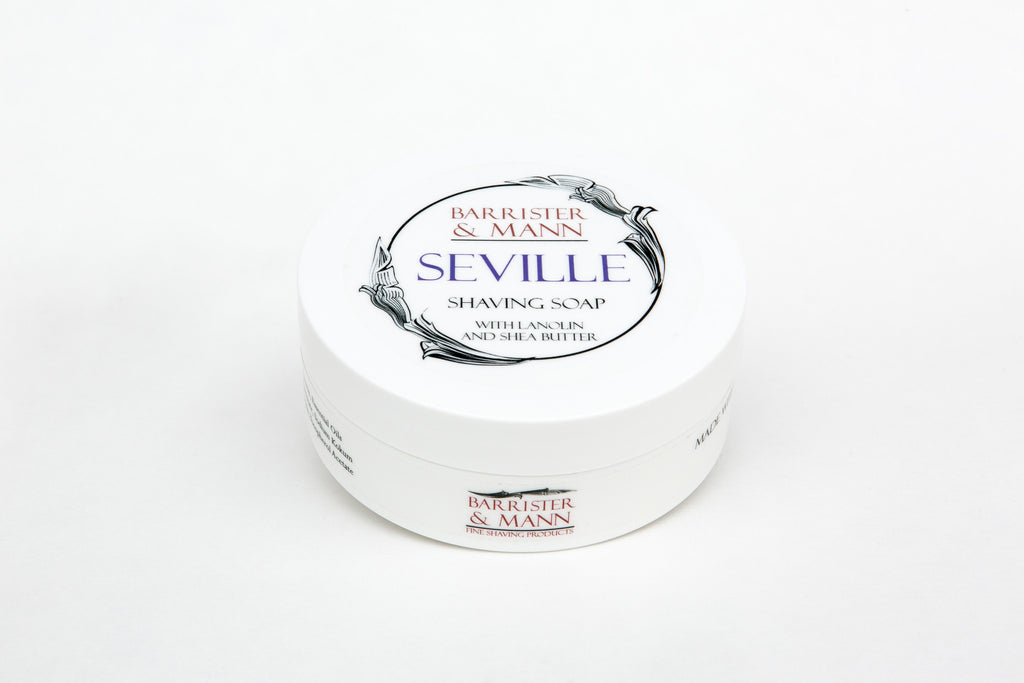 Barrister & Mann Tallow Shaving Soap, Seville
$ 16.00
A traditional barbershop scent, this soap contains bergamot, lemon, patchouli, oakmoss, lavender, and rosemary. A fresh, clean fragrance that goes with pretty much anything. Please note that our bergamot essential oil has been treated to remove the photosensitizing qualities (bergaptene).
Please note that Barrister & Mann's formula produces a very thirsty soap. More water than you are otherwise accustomed to may be required to provide sufficient glide and keep the lather from drying out, but trust us: it's worth it. 
Each jar is hot-filled with 4 oz of soap.

Jars are 3.94 inches in diameter

Made in the USA
Ingredients: Potassium Stearate, Sodium Stearate, Potassium Tallowate, Sodium Tallowate, Aqua, Glycerin, Potassium Ricinoleate, Sodium Ricinoleate, Citrus bergamia (Bergamot) Oil, Citrus limonium (Lemon) Oil, Lavandula Angustifolia (Lavender) Oil, Rosmarinus officinalis (Rosemary) Oil, Fragrance, Pogostemon cablin (Patchouli) Oil, Coconut Milk, Potassium Kokum Butterate, Sodium Kokum Butterate, Butyrospermum Parkii (Shea) Butter, Potassium Cocoate, Sodium Cocoate, Lanolin, Allantoin, Silk Protein, Tocopherol Acetate.