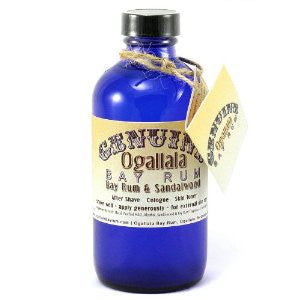 Genuine Ogallala Bay Rum & Sandalwood Aftershave, 4oz
$ 15.00
Genuine Ogallala Bay Rum products pay homage to the cattle driving, saloon drinking cowboys of Ogallala, Nebraska's past.  This aftershave's refreshing and bold, barbershop scent is sure to put some hair on your chest.
Ingredients: Witch Hazel, Purified Water, Alcohol, Sandalwood and Bay Rum Fragrance & Essential Oils

Size: 4oz

Made in USA
Shipping Restrictions: This product contains alcohol which is prohibited on air transportation, and can only be shipped domestically via surface transportation. Products containing alcohol are prohibited in international shipments.