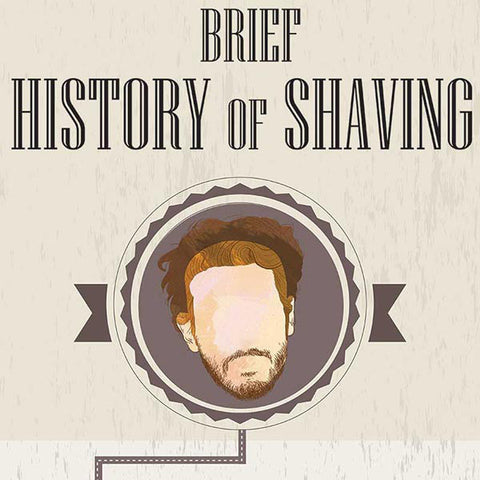 A Brief History of Shaving
| | |
| --- | --- |
| | This week's post comes via Ben Rose, founder and senior editor of Prim&Prep. Ben is a wet shaving enthusiast whose been honing his technique for over 5 years now. Be sure to head over to Prim&Prep for more great information about men's grooming and wet shaving. |
The world of shaving has changed quite dramatically over the past few decades, in some ways for the better and in many other ways for the worse. When we consider the fact that men are no longer forced to resort to plucking their beards one hair at a time or painfully scraping away at our faces with shells, rocks or dull, primitive pieces of steel, it quickly becomes quite obvious just how much technology has improved our daily routine. Even the cheapest disposable razor seems like a gift straight from heaven compared to what our historical brethren had to endure.
On the other hand, while the advent of disposables and cartridge razors may have dramatically simplified shaving, these inventions are more about convenience than they are quality. In this sense, it's easy to argue that for the average man, shaving has actually gotten worse in recent decades, not better. That is, unless that man happens to be part of the rapidly growing community of dedicated wet shavers; a man that understands that you can't put a price on quality and that speed and convenience are not the only important things in life.
Over at Prim&Prep, we are committed to showing men all over the world that there is a better way, bringing them away from the dark side of cheap canned foams and crappy disposable razors and exposing them to the good side of the force. This is why we are so eager to share with you our handy History of Shaving infographic so that perhaps more men out there will understand both the good and the bad of the modern shaving industry. Similarly, this is also why we're so happy to partner with such an outstanding source of information as is here at Baby Butt Smooth Shave Co., which we see as another leading light in the fight for the future of shaving.
In an ideal world, every man would suddenly realize that there truly is a better way to shave. While this is obviously nothing but a pipe dream, we're still ecstatic to see the huge comeback traditional wet shaving has made over the past few years; and we're even more excited to see it continue, which is why we have dedicated our time to further spread the word about the miracle that is wet shaving.
In our opinion, shaving is both an art and a science; or at least it should be, as a whole lot goes into achieving the best possible shave, as any reader of this site is already well aware. Like anything else in life, it's important to choose the right tools for the job if you want it to truly be a success. This means learning the secrets "big shaving" doesn't want you to know.
Take shaving creams for instance. While more and more companies continue to pump out canned chemical goop that they have the audacity to call "shaving cream", the best shave creams and soaps which are sold here on this site; like those produced by leading companies such as Taylor of Old Bond Street (which coincidentally we believe to be one of, if not the best shaving creams around).
As you'll quickly realize from our infographic, the history of shaving is not only quite long and complicated, but somewhere along the line we took a wrong turn, leading men away from the ultimate in quality, comfort and closeness merely to save a few minutes on our daily routines. It is our mission to share our passion for wet shaving with the world, and we're happy to be given the opportunity to share it with you here today. So as men, it's time to stand against the practically laughable onrushing tide of technology and realize once and for all that our grandfathers actually had it right. Surely any type of modern shave is better than what our ancestors had to go through, but in fact, when we compare the traditional wet shave that was once commonplace to the modern excuse for a shave many men still put up with today— we might start realizing that maybe we haven't come as far as we thought, and that it's time to again start focusing on quality over convenience.