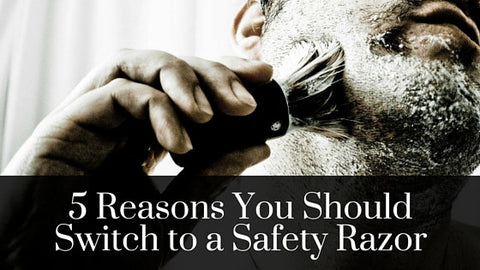 5 Reasons You Should Switch to a Safety Razor
Are you frustrated with your cartridge razor and ready for a change? You may have heard that safety razors and wet shaving is the answer, but why? In this post, we've outline our top 5 reasons why you could make the switch and toss that overly-bladed, battery powered monstrosity for a traditional safety razor.
1. Enjoy Your Shave Routine
It's no secret that many men get no enjoyment out of shaving and, in many cases, look at it as a tedious chore. If you consider the fact that a good amount of men are shaving daily, then you'll soon realize that guys are spending a tremendous amount of time doing something they actually despise. Well it's time to make a change for the better.
Take a step back in the evolution of shaving razors to a time when quick and dirty was not the priority. Shaving with a safety razor can be a more enjoyable, almost zen-like experience due to the required concentration and skill involved in obtaining the perfect shave.  Add to that the aromas and sensations of the soaps, creams, and aftershaves you are likely to encounter and you've got yourself a recipe for a more enjoyable experience. Just be careful or shaving with a safety razor can quickly turn from hobby to obsession.
2. Experience a Better Shave
Playing off our first point, shaving today has become less about getting a quality, irritation-free shave and more about getting it over with as quickly as possible. That multi-bladed, vibrating gimmick of a razor is not doing your skin any favors and more than likely causing that annoying razor burn you are experiencing.
Rather than using multiple blades that tug and pull your hair as they cut like cartridge razors, shaving with a safety razor is all about slow reduction of your facial hair using a single, super sharp blade and multiple passes. When wet shaving with a safety razor, you'll find that you are able to obtain a closer, smoother shave without the razor burn and irritation that modern razors can't avoid.=
3. Reduce Your Environmental Footprint
On an individual level, one may think that shaving with disposable razors has little impact on the environment, but once you add the footprints of all shavers together you may have reason for concern. According to the U.S. Environmental Protection Agency, U.S. consumers are throwing away more than 2 billion disposable razors each year. By making the switch to a safety razor, you can minimize your environmental footprint in several ways.
Double edge safety razor blades are straight forward, easily recyclable stainless steel blades whereas cartridge blades are bulkier and include significant plastic housing, which require even more resources during manufacturing. Also consider the packaging of these two options. Cartridge razors include bulky, hard to open plastic display cases while safety razor blades are often sold in cardboard packaging with paper sleeves for each blade. Not to mention the impact modern shaving foams and gels have on the environment over traditional options.
4. Save Money
I bet you're also tired of seeing the ever increasing price tags of cartridge razors at your local market. Switching to a safety razor can provide a relief to the price gauging that large corporations are imposing on their customers.True, there is a larger cost on entry when shaving with a safety razor, but you can easily see that this initial cost can be recouped via cheap blade refills as compared to cartridge razors.
Even when bought in bulk, cartridge options are usually $2.00 to $3.00 a blade. Compare this to the price of safety razors blades, which we sell for around $0.30 per blade, and when bought in bulk can be as cheap as $0.10 for the most popular brands. Over the course of as little as a year you initial investment will start paying off. Just be careful you don't get too addicted to wet shaving or you can easily get carried away with purchasing new razors, artisan soaps, or aftershaves.
To find out more about the savings of using a safety razor as compared with modern cartridge razors, head over to our article Wet Shaving, by the Numbers.
5. Support Small Business
One great by-product of the wet shaving renaissance is that a number of fantastic small businesses and artisan vendors supporting the safety razor hobby have popped up, seemingly overnight. By purchasing from these small business, you are helping to improve local economies over large corporations, and you'll get an improved, personalized level of customer services to boot.
One of those small business happens to be, yours truly, Baby Butt Smooth Shave Company. I started this company as a side gig when wet shaving became an obsession of mine and I wanted to share it with my friends, family, and the community at large. Since then our little company has converted many individuals, who were frustrated with cartridge razor shaving for one reason or another.
So ready to take the plunge?  Head over to our store to see the safety razors we offer or check out our Safety Razor Kit section to see the full kits we have for beginners wet shavers. Let us know if you have additional reason for or against switching to a safety razor be leaving a comment below. Also, don't forget to share with your friends that are also considering the make the switch to a safety razor.
Photo Credit: practicalowl